2079 Jestha
17
Tuesday
May 31, 2022
जेठ शुक्ल प्रतिपदा
Gosaikunda Snan Aarambha/Dasahara Snan Arambha/World No Tobacco Day

MY NOTE
You can add your notes here
Gosaikunda Snan Aarambha/Dasahara Snan Arambha/World No Tobacco Day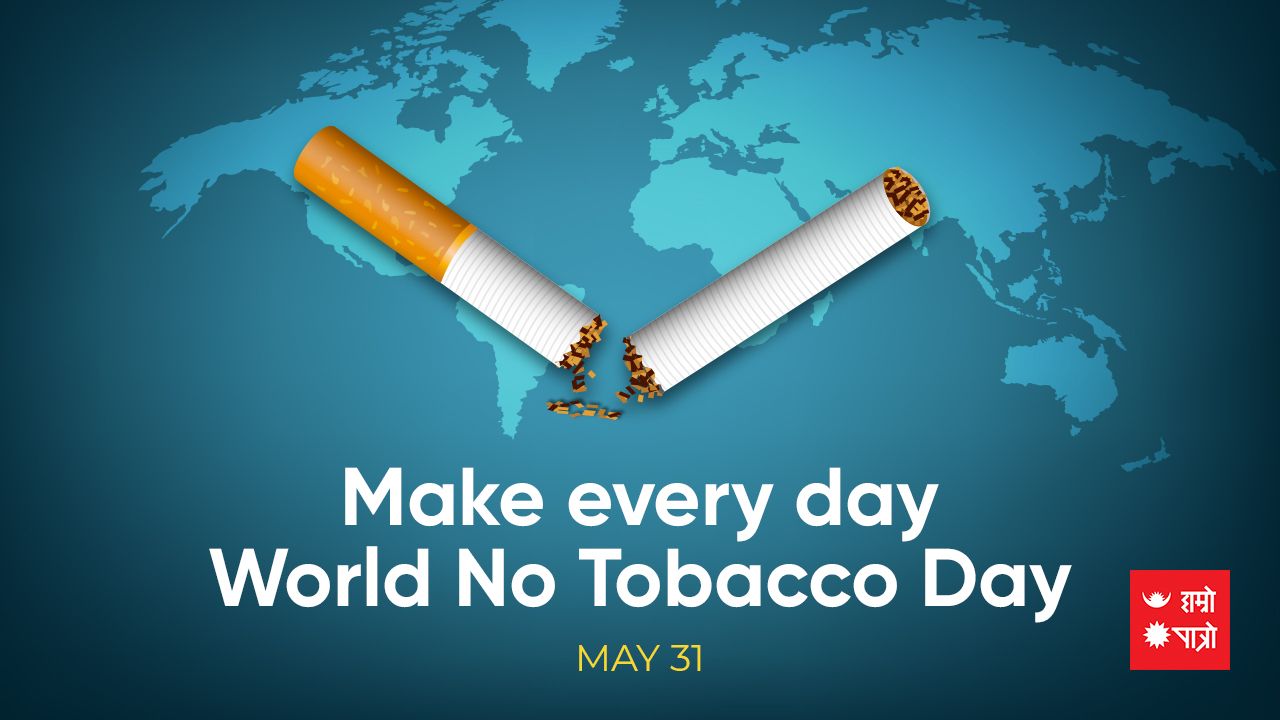 About this day
This yearly celebration informs the public on the dangers of using tobacco, the business practices of tobacco companies, what WHO is doing to fight the tobacco epidemic, and what people around the world can do to claim their right to health and healthy living and to protect future generations.

The Member States of the World Health Organization created World No Tobacco Day in 1987 to draw global attention to the tobacco epidemic and the preventable death and disease it causes. In 1987, the World Health Assembly passed Resolution WHA40.38, calling for 7 April 1988 to be a "a world no-smoking day." In 1988, Resolution WHA42.19 was passed, calling for the celebration of World No Tobacco Day, every year on 31 May.

Observance of "World No Tobacco day"
Today, World No Tobacco Day is also celebrated across the globe. This day is celebrated on May 31 at the call of the World Health Organization to minimize the damage caused by Tobacco and controlling tobacco products.Did you know? In Nepal, more than 25,000 people die every year due to tobacco. One out of every 10 adults in the world dies prematurely due to Tobacco.

The slogan of the 2022 World No Tobacco Day is Protect the environment.
With an annual greenhouse gas contribution of 84 megatons carbon dioxide equivalent, the tobacco industry contributes to climate change and reduces climate resilience, wasting resources and damaging ecosystems.

Around 3.5 million hectares of land are destroyed for tobacco growing each year. Growing tobacco contributes to deforestation, especially in the developing world. of Deforestation for tobacco plantations promotes soil degradation and "failing yields" or the capacity for the land to support the growth of any other crops or vegetation.

"The environmental impacts of tobacco using adds unnecessary pressure to our planet's already scarce resources and fragile ecosystems. This is especially dangerous for developing countries, as that's where most of the tobacco production happens." said Dr Ruediger Krech, Director of Health Promotion, "Every cigarette you smoke, you are literally burning resources where they are already scarce, burning resources where our very existence depends upon."

The environmental burden falls on countries least able to cope with it, the profits are made by transnational tobacco companies that are based in higher-income countries.
Wish you all a healthy life!!!

Gosaikunda Snan Aarambha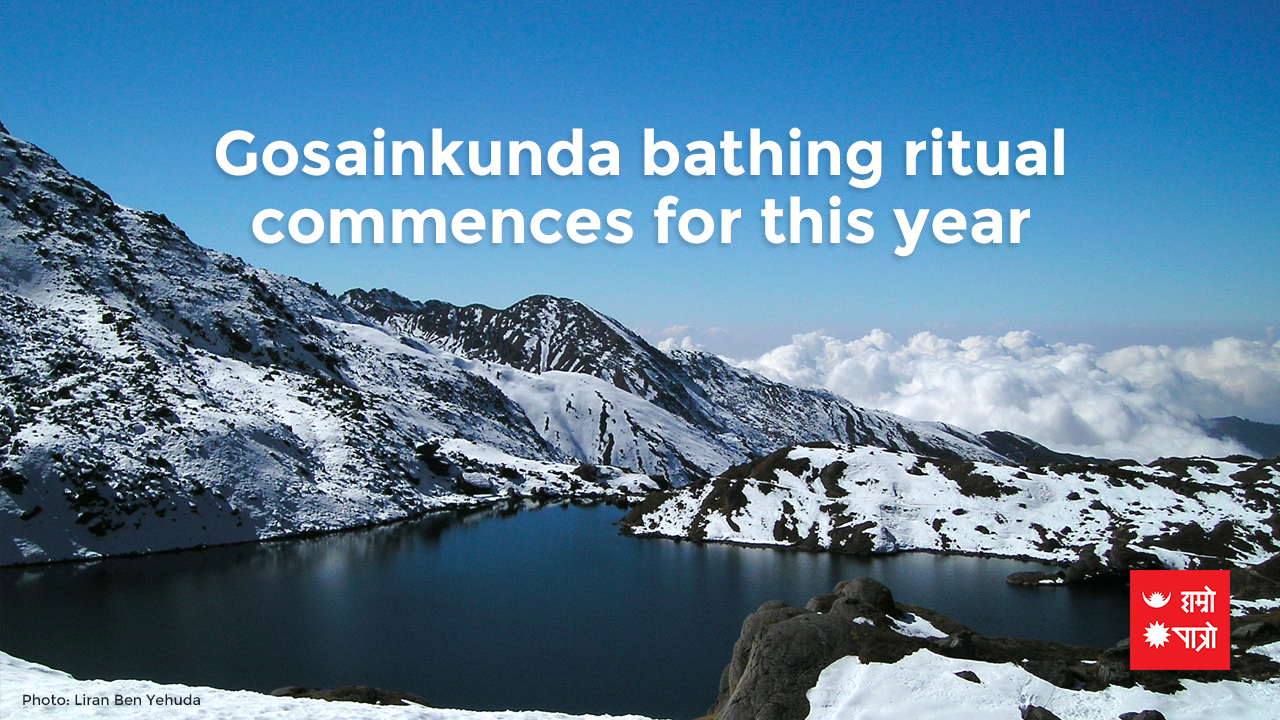 ॐ अस्य श्री भगवान नीलकंठ सदा-शिव-स्तोत्र मंत्रस्य श्री ब्रह्मा ऋषिः, अनुष्ठुप छन्दः,
श्री नीलकंठ सदाशिवो देवता, ब्रह्म बीजं, पार्वती शक्तिः, मम समस्त पाप क्षयार्थंक्षे म-स्थै-आर्यु-आरोग्य-अभिवृद्धयर्थं
मोक्षादि-चतुर्वर्ग-साधनार्थं च श्री नीलकंठ-सदाशिव-प्रसाद-सिद्धयर्थे जपे विनियोगः।

Meaning
:
For The Neelakanta Sadhashiva Mantra Prayer, the Sage Is Brahma, the Meter Is Anushtup,
The God Addressed Is Neelakanta Sadhashiva, the Seed Is Brahma, the Power Is Parvati
And For Complete Destruction of All My Sins, For Enhancement of Pleasant Life and Stability of Life. Span And Health, For Getting The Four Things Dharma, Prosperity, Desires And Salvation, I Am Chanting This Mantra.

Story of Lord Shiva (Neelkantha and Gosaikunda)

Neelkantha, the one who has a blue throat, I begin from here today, and this is a splendid story. Lord Shiva swallowed the Halahal poison which appeared during the Samudra Manthan, Nilkantha in the desperation of the poison went straight to holy Gosaikunda Lake in the mountains and slept there under the cold water.
At an altitude over 4380 meters above sea level, Gosainkunda (Gosain means Lord and Kunda is a holy pond) is believed to have been created by the Trisul of Lord Shiva.
To get the elixir from the ocean, the Samundra Manthan or the churning process was on its go, a lot of things came out of the ocean which included gold, silvers, gems, goddesses Luxmi, Dhawantari, and many more. Among all those, deadly Halahal poison was one among them, this was so deadly that it perished everyone who came into contact with it. Gods and demons were asphyxiated because of the effect, sooner Bramhma and Vishnu asked for help from Lord Shiva.
Upon the consumption of this poison, Lord Shiva started turning blue, alarmed by the rapidly spreading poison into Lord Shiva's body Goddesses Parwati entered Shiva's throat in the form of Mahavidya and controlled the spreading of poison confining its effect only to his throat.Hence, Neelkantha connotes that we need to control all our negative thoughts and keep working towards achieving our goals.
Gosainkunda, a place that must be visited once in a lifetime, has a tradition of taking a holy dip every year with thousands of devotees, this starts from today. The number of devotees bathing in the holy shrine of Rasuwa, Gosainkunda, is expected to increase day by day from today till the date of Dashami.
There is a religious belief that bathing, giving alms, and offering Tarpan in Gosainkunda will assist ancestors to liberate and achieve salvation. These holy dips will also assist to get rid of the sins committed for life and fulfill their desires.

Dasahara Snan Arambha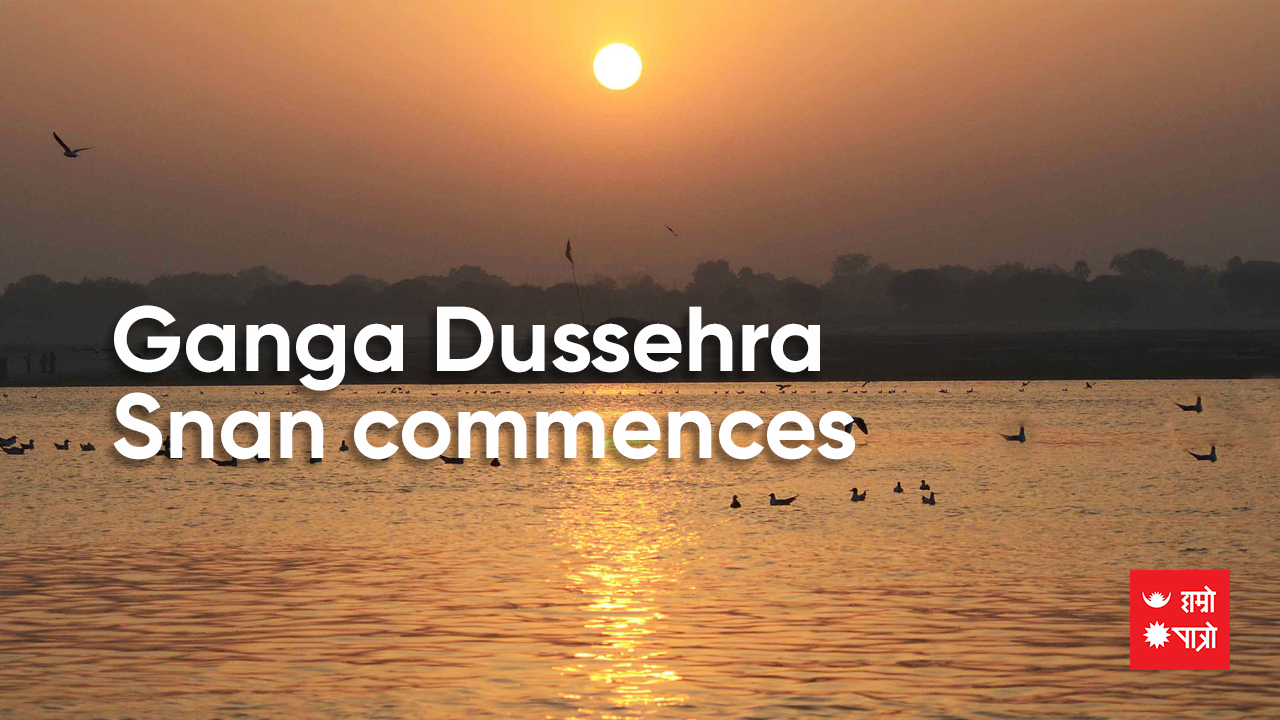 The importance of Jestha Shukla Pratipada tithi is very high. On this tithi, in the Vedic period, Bhagirathi brought Ganga to earth. Before this, the holy Ganga used to flow only in the heavens, but after this, it is believed that the descent of the Ganga took place in the earth. Thus, on the date of the arrival of Ganga, people plant basil seeds and start a series of holy baths. This series of baths is called Dashara bath. These series of holy baths, which last for 10 days from Pratipada to Ekadashi, are believed to destroy a kind of sin every day. This is called the Dasahara bath because one gets rid of ten types of sins in ten days.
The sin of taking an object without being allowed to do so, committing the crime, committing adultery, speaking harsh words, telling lies, slandering, blaspheming, wanting to usurp the property of others, wanting to harm others, and being stubborn without any reason. There is a classical belief that if you go to Triveni (A combination of three rivers) or any river and take a bath, your sins will be destroyed.
Suyog Dhakal
Liked by: