2080 Kartik
28
Tuesday
Nov 14, 2023
कार्तिक शुक्ल प्रतिपदा
Gobardhan Pooja/ Mha: Pooja/ Nepal Sambat 1144/World Diabetes Day

MY NOTE
You can add your notes here
Gobardhan Pooja | Mha: Pooja | Nepal Sambat 1144 | World Diabetes Day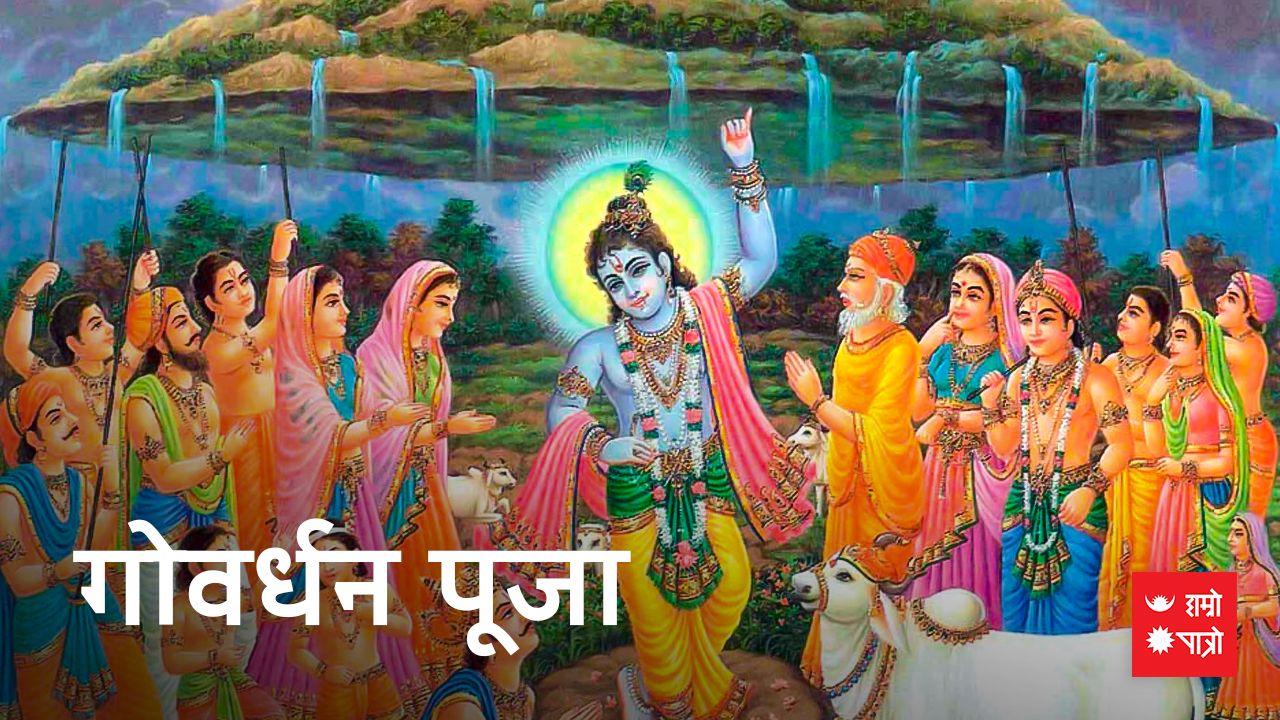 Gobardan Puja
Today is Gobardhan Puja, Gobar means the holy cow dung so today Sanatan people acknowledge the importance of the mother cow. Crows, dogs, cows, and other animals involved in ancient agricultural work are hugely acknowledged in Yamapanchak days. Gobardhan Puja reminds us of the importance placed on our agricultural life by animals.

It is mentioned in the Bhagavad Gita that Lord Krishna lifted the Gobardhan mountain with his little finger to save the people of Dwarika from the catastrophe caused by the incessant rains that fell in Gokul due to the wrath of King Indra of heaven.

It is also mentioned that Indra today regretted his behavior and apologized to Lord Krishna. Today, the same Gobardhana mountain that Sri Krishna lifted with his finger is worshiped. Thus, while worshiping Gobardhan mountain, it has been customary to worship the Gobar as a symbol of Gobardhan mountain.

Not just cows but oxen are also worshipped today. If we remember the ancient Nepali society, carts pulled by animals including ox carts were the main means of transportation from one place to another and the main bases of agricultural work. For these cows and oxen, today they are given a mixture of flour, salt, bran, and water cooked like a pancake.

Another big highlight of the day is Deusi. Yesterday's Bhaile's Vaka and today Deunse's Vaka. Of course, due to the Corona tragedy and the health crisis, these interesting things will not continue this year, but we will rejoice in the memories of the previous year and cultivate hope for forthcomings.

Deunse is a pre-historic storytelling and singing tradition, where a group of people visits a neighbor's doorstep, courtyard, and organize a musical and lyrical event for a short time. This is a traditional way of storytelling, those Deunse narrates several stories of ancient King Bali and other ancient pauranik characters. Later Deunse receives foods, grains, money, and thanks from the house owner, the ceremony ends with the flow of best wishes and blessings to the house owner, family, and society.

Mha Puja
Meaning of "Mha"
In the Newari community today, it is customary to celebrate Mha puja and value self-existence. In the Newari language, there is a predominance of small words like Mha, Mha means self,, and puja is worship, so today is respecting self and acknowledging the preciousness of life.

Sometimes, I feel that this is one of the most scientific and social cultures, as today Newa people take time to value self and re-realize the value of living.

Today is also the day to enlighten the self and give the impression of liveliness. If we examine the use and history of the word mhan in the Newari language, we find that its use is widely used in prefixes and suffixes in generic sentences.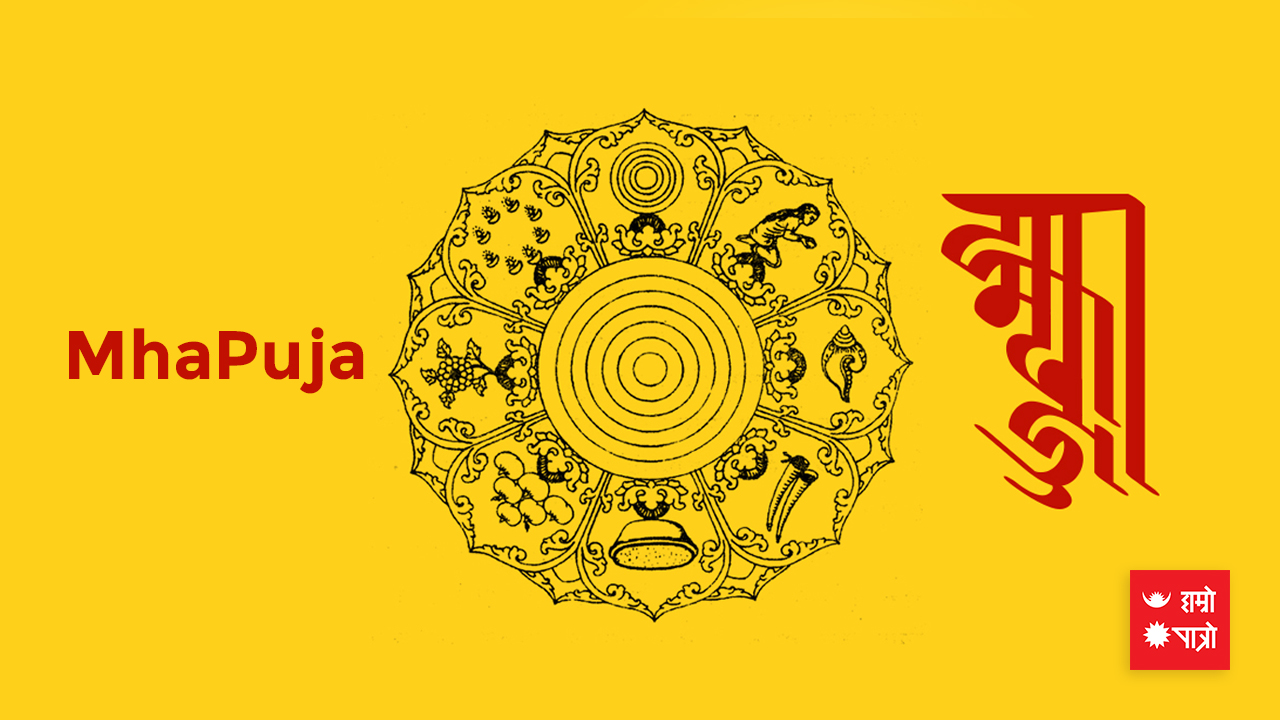 Mha Fu la? How are you?
Mha means the word for body and consciousness, Mha is not used in unconscious and inanimate objects. Highlighting this consciousness and self-element, it is customary in the Newar community to celebrate Mhapuja today.

In the Newari community, worshiping and self-realizing self and the divine within one's own body is practiced onon this day. According to the belief that there can be no peace without peace in the body, today an attractive mandapa symbolizing Ashta Chiranjeevi and Ashta Aishwarya is worshiped and one feeds oneself by placing various food items on the mandapa.

Gai Goru Puja, Haltihar
Today cow, oxen, traditional wooden plow (Hali or halo), and other agricultural implements are worshipped. With the onset of winter in the agricultural doors of Nepal, it is customary to take out the tools such as plows, and spades that have been kept after the rainy season for worship. Hali means plow, so this Tihar is called Hali Tihar, we worship agricultural tools on this day.

Another big highlight of the day is Deusi. Yesterday's Bhaile's Vaka and today Deunse's Vaka. Of course, due to the Corona tragedy and the health crisis, these interesting things will not continue this year, but we will rejoice in the memories of the previous year and cultivate hope for forthcomings.

Deunse is a pre-historic storytelling and singing tradition, where a group of people visits a neighbor's doorstep, courtyard, and organize a musical and lyrical event for a short time. This is a traditional way of storytelling, those Deunse narrates several stories of ancient King Bali and other ancient pauranik characters. Later Deunse receives foods, grains, money, and thanks from the house owner, the ceremony ends with the flow of best wishes and blessings to the house owner, family, and society.

Utmost wishes for the coming years.

Nepal Sambat 1144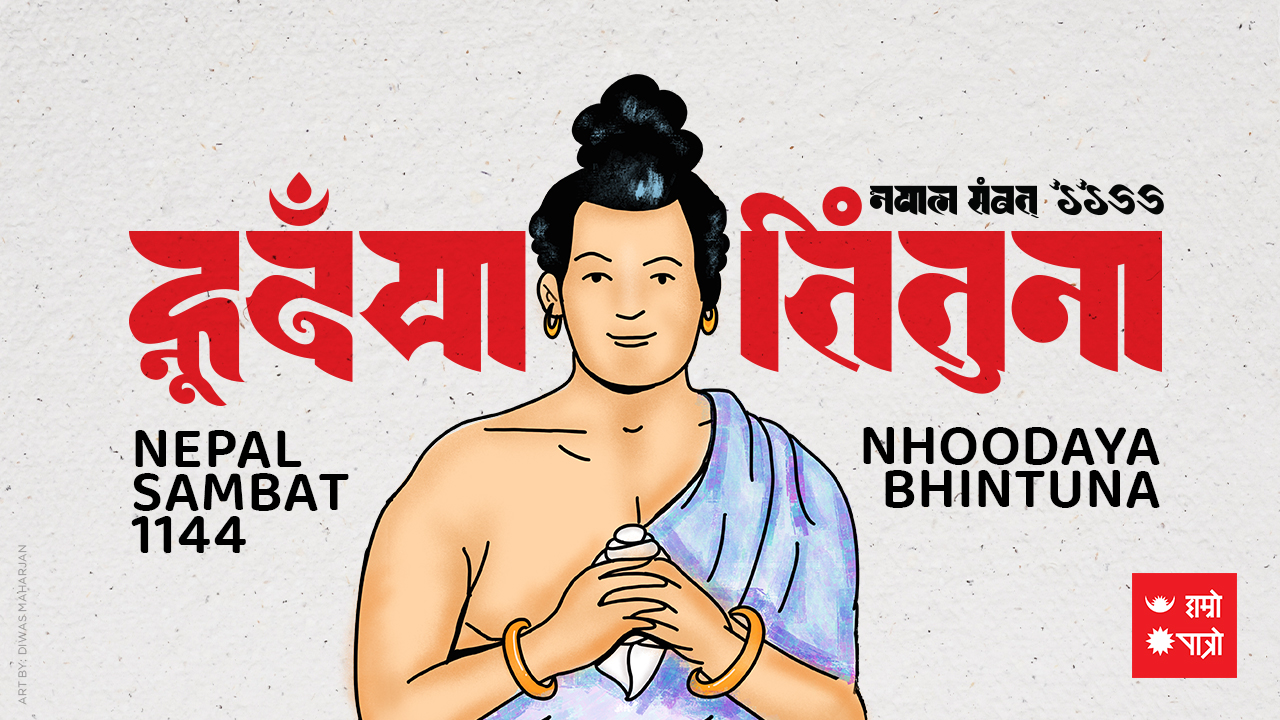 Today, the Newar community living in and out of the Kathmandu Valley celebrates the new year (Nepal Sambat) i.e. "Nhudanya Bhintuna" (exchange of New Year greetings) and develops ethnic unity and ancestral common culture. This Samvat, especially considered by the Newar community, is also a fundamental Samvat of Nepal.

Nepal Samvat is the epoch run by national luminary Shankhadhar Sakhwa by freeing the people across the country from debt. On this occasion, Bhintuna rallies are being held all over the country and abroad saying 'Nhudanya Bhintuna'.

Nepal Samvat is based on the lunar month. The first day of Nepal Samvat falls on the day of Kartik Shukla Paksha of Bikram Samvat.

There is a history of Nepal Samvat in government offices from the time of King Raghav Dev of Bhaktapur to the time of Chandra Shamsher. In this Samvat a month is measured between one no moon day (Aaunshi) to another Aaunshi and in this Samvat a year of 354 days falls.

According to the Nepal Samvat, the months are called Kachla, Thinla, Ponhela, Silla, Chilla, Chwala, Banchala, Tanthala, Della, Gunla, Nala, and Kaula respectively. The Government of Nepal has also given official recognition to this Samvat. In the Newari community, this samvat is widely used and measured.

Welcome to the month of Kachla of Nepal 1144.

World Diabetes Day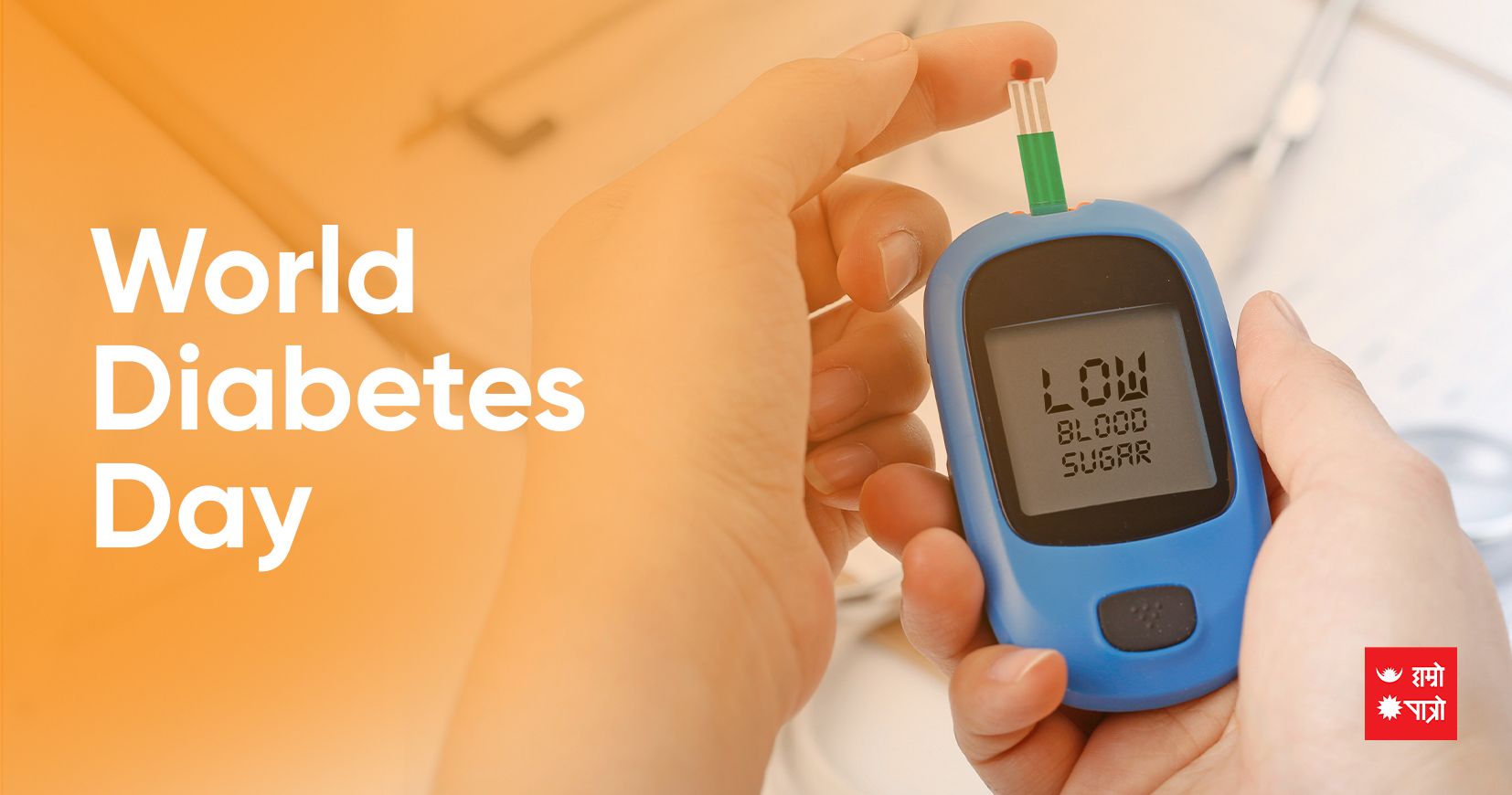 November 14 is celebrated every year to commemorate the birthday of scientist Frederick Banting, who played a key role in the development of insulin used to treat diabetes. Frederick, born in 1881 and died in 1941, is a Canadian citizen who has made significant contributions to the production of the hormone insulin during his entire lifetime. Various public awareness programs are being held on the occasion of this day, which has been celebrated since 1991 at the call of the World Health Organization.

The theme for world Diabetic day, 2023
The theme for World Diabetes Day 2021-23 is access to diabetes care. 100 years after the discovery of insulin, millions of people with diabetes around the world cannot access the care they need. People with diabetes require ongoing care and support to manage their condition and avoid complications.

At present, more than 420 million people worldwide are at risk of diabetes, while in Nepal alone, it is estimated that at least one million people are affected by diabetes. Although lifestyle diabetes is not a contagious disease, it is considered a family disease. If only one member of the family has diabetes, it can affect the whole family. It affects the lifestyle, diet, relationships, financial and mental aspects of the entire family.

Doctors suggest that you can avoid diabetes by paying attention to your daily diet, exercising regularly, and adopting a stress-free lifestyle. A diet that is more likely to be high in carbohydrates, fatty, and sugary foods must be avoided.

Precisely, the right diet, lifestyle, positive thinking, regular physical exercise can control diabetes in time. People with diabetes should not smoke or drink alcohol. If one's family has diabetes in the previous generation, then the next generation must also be aware of diabetes. If we are aware of the time, we can push diabetes away from our lives. Nowadays, most of the market foods and packaged foods are on the rise, such junk foods are considered to be very bad. It is recommended to eat grains instead of highly processed carbohydrates.

The generation within the screen needs to come into nature, football needs to be played on the field, not remotely, stress management measures need to be taken and diabetes needs to be eradicated from life. Health is wealth.

-Suyog Dhakal
Liked by: