MY NOTE
You can add your notes here
Nepali New Year / Mesh Sankranti / Biska Jatra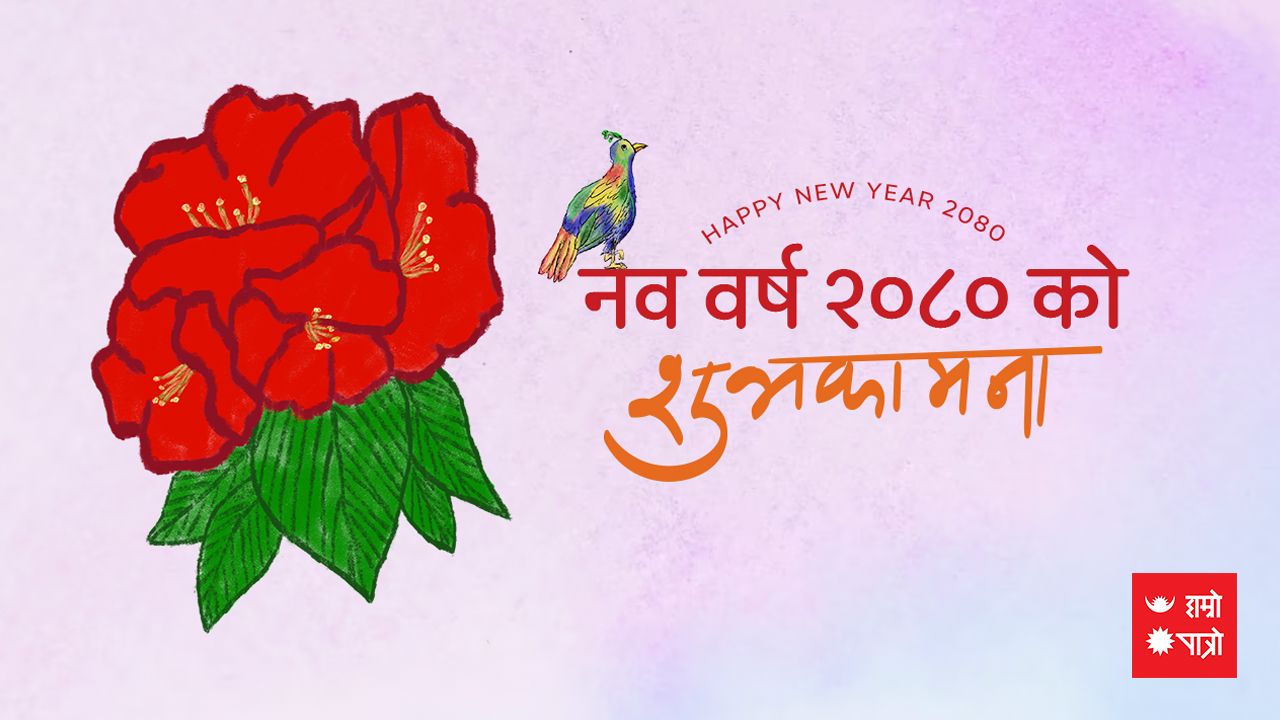 Welcome to the new year 2080 of Bikram Sambat, 56.7 years ahead of AD.
This year, rather than a new year, a new decade has begun.

The 70's are now entering the 80's. In the last decade we have seen many ups and downs and transformations. Be it earthquakes or constitutions, many transits of planets, many things inside and outside the imagination, this decade has asked for leave.


Our beloved mobile companion "Hamro Patro" has also added many features in this decade. From this year, our mobile payment system has also entered the market, from chatting with doctors, consulting astrology via mobile.

Come on, let's continue to travel with the same love in the next decade.

सर्वे सन्तु निरामयाः ।
सर्वे भद्राणि पश्यन्तु
मा कश्चिद्दुःखभाग्भवेत् ।
ॐ शान्तिः शान्तिः शान्तिः ॥

Om, May All be Happy,
May All be Free from Illness.
May All See what is Auspicious,
May no one Suffer.
Om Peace, Peace, Peace.

Happy New Year with all those above wishes, prayers and love. Writing these words inside of my home amidst a global lockdown, maybe this world is silent, people are under their roof but the solidarity has increased and humanity is taking a newer form. From Niles to Nairobi, from Teheran to Taipei, from Everest to Atlantic, from Ney York to New Delhi and every corner of this planet, let the peace flow, may smiles grow.

Every year, the old calendar shifts to new sheets and new sheets and new opportunities emerge. These years are like the new chapters in the book, which are like the rest of the exciting pages to read and turn over.

Like plain sheets of writing copy, where the days and months live, laugh and cry, the alphabets of the experience fill up. The circle with we made in the last year is equally significant. Welcome to this new version of the year, combining the good experiences, memories, and steps of the past years.

Siruwa/Jutshittal
Happy Siruwa, Happy Jut Shittal, and Happy Baishakhi. From poetry and greeting cards to the film heroes and heroin pictures in school life, to the good wishes of today on Facebook and Twitter, from the taste of Selroti (Typical Nepali sweet bread) and cucumber pickle to various dishes of new year parties and restaurants, let there be grand wishes and smiles also in their faces who are marking red on their calendars to return their motherland, Nepal, from foreign lands.

Commencing year will spread a magical wave to temple bells, church pinnacles, gumbaj of monasteries and to the domes, mosques, and Dargahas. This year is auspicious, right and good, we have faith.

Like the prehistoric presence of Aradhyadeb Pashupati which is formless, endless but yet powerful, Time is an infinitive flow of change and we humans try to measure time under our efforts by counting years, months and weeks. These clocks indicate the changing time and these changes also change the periphery of human lives.

Singing cuckoos, blooming mango trees, ripen wheat plants at the farms, litchi flowers and many more natural appearances welcomes the commencing year. Wall calendars are outdated, making hand-held mobiles updated as digital calendars, Hamro Patro will always be your mobile companion for more years and decades to come.

About Bikram Sambat
People all over the world have different kinds of dates and calendar associations into practice, but Bikram Samwat has been described as an old and historical counterpart, especially in Eastern philosophy and the traditional Vedic Sanatan rites. Ancient Indian King Vikramaditya commenced this calendar, there are apparent shreds of evidence and scriptures to prove his ruling time as his borders were expanded till gulf nations of today. Welcome to the new year of Bikram Sambat which is 56.7 years ahead of AD association. This is also an authorized annual calendar of Nepal.

May the blessings of religion, culture, and philanthropy prevail globally, the destruction of lawlessness, the welfare of the world, the life of the creatures and the love of nature and the development of a society that loves nature be ensured this year. Jay Jay Desh, Jay Jay.

Biska Jatra , Death of the serpent King.
Jatra, festival and date, one should learn from Nepal. We celebrate every day as a feast, with every celebration and ecstasy of the festival, to keep it going forever. On the very first day of the Bikram Sambat calendar, there is a huge celebration of Biska Jatra around Bhaktapur, Tokha, Dhapasi, Thimi and nearby places. People also call it Bisket but Biska is its ancient and original name to address.

Despite the Jatra on the first day of Vikram Samvat, the reasons for celebrating the Jatra are not linked to Vikram Sambat's new year. The Balkumari area of Thimi and Bhaktapur Durbar Square captivates the exclusive beauty of Biska Jatra. This Jatra is related to the death of Nagaraja, king of serpents, Biska itself translates the death of a snake. Local people work an entire month of Chaitra to construct and decorate magnificent chariot of Lord Bhairava and Bhadrakali, from the Nyatpol temple of Taumadi these chariots are pulled till the Khalla Tole. There holds a competition between upper and lower side residents of the ancient city of Bhaktapur who can pull the chariot into their side, this competition is the major attraction of this Biska.

Thimi has its own signature celebration of this Jatra, at Layaku locals organize Sindur Jatra, they also bring their own small chariots and the celebration under the subtle musical waves of ancient Dheeme Baja gives you goose bombs. The modern life of today still beholds the beauty and essence of traditional Jatra which have been happening for thousands of years.

While there is a tongue piercing program in Bode Bhaktapur, this Jatra provides an exciting atmosphere to start the New Year.

The celebration commences four days ahead of the new year, "SatruHant Jatra" is the kick starter which means the destruction of enemies. People observe and participate in this Jatra very actively however, the massive earthquake of 2015 AD has shortened the Jatra celebration at various steps and venues.

Happy Biska Jatra, meaningful wishes from Nepal.

Mesh Sakranti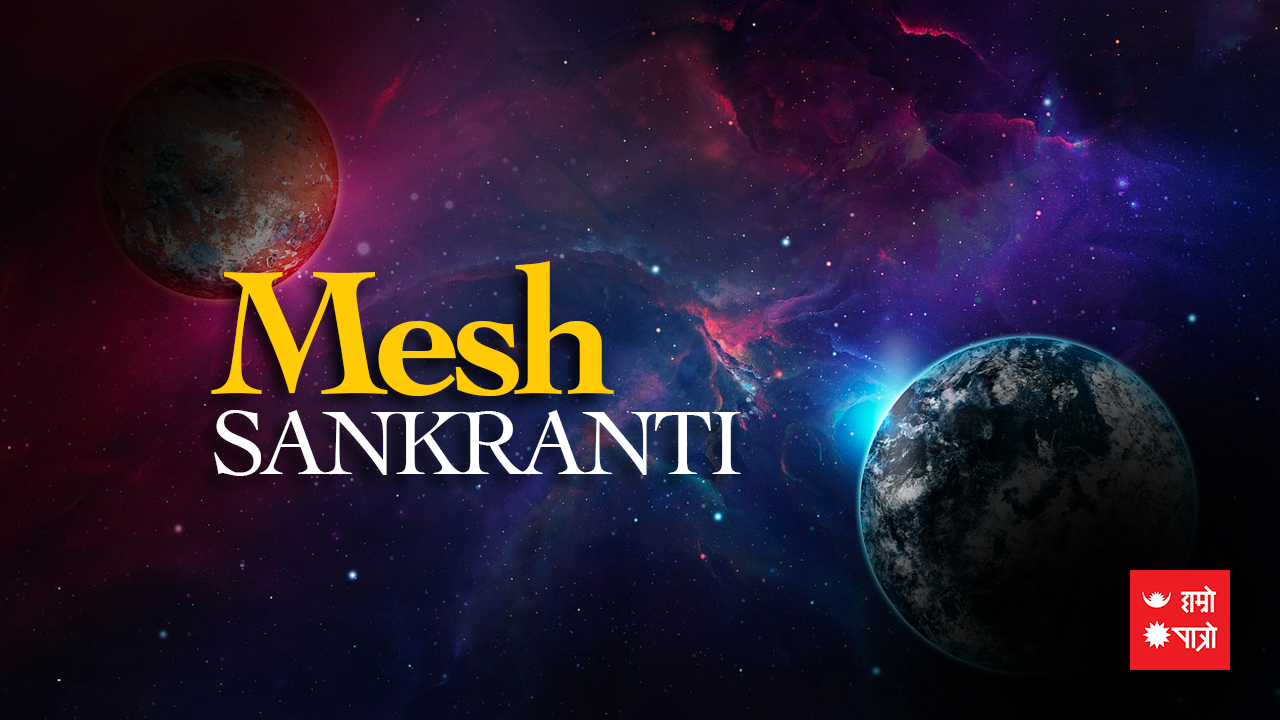 Baisakh first has different names and features across Nepal and the Indian subcontinent. The first and second of Baisakh is celebrated as Jutshittal in Terai regions of Nepal, India, and Bangladesh, this day is also called Baishakhi and Shiruwa.

12 Months of Bikram Sambat calendar is divided on the base of 12 Rashis, zodiac signs. Baisakh first is the commencing date of the first Rashi which is Mesh, this is why it's also called Mesh Sakranti. Nepali kitchen prepares their signature delicacies on this day, a warm celebration and chain of wishes flow underneath every Nepali heart.

People set resolution and plans of the New Year, bright April sky also seems ready to welcome monsoon clouds in Nepal. Happy New Year, love and peace.

Happy New Year 2080 B.S

Suyog Dhakal
Liked by: