2080 Ashwin
19
Friday
Oct 06, 2023
असोज कृष्ण सप्तमी
Mahalakshmi Barta Samaapti/Ashtami Shraddha/World Smile Day

MY NOTE
You can add your notes here
Mahalakshmi Barta Samaapti/Ashtami Shraddha/World Smile Day
Mahalakshmi Mahavrata concludes today with, simplicity and tenderness of the goddess of wealth and prosperity.

Today, Krishna Saptami of Bhadrapad, i.e. 16 days of Mahalakshmi's Vrata series is being concluded today. Welcome to this year's 16-day holy series of Mahalakshmi Vrat. In these 16 days, Goddess Mahalakshmi, the goddess of wealth and auspiciousness, is worshiped. Goddess Mahalakshmi appeared during the Samundra Manthan process from Ksheer Ocean (Ksheer Sagar), she is married to Lord Vishnu or Sri Hari. Every now and then metal coins fall from the palm of the hand of Goddess Lakshmi seated on the lotus flower. If you look at these images, the goddess of wealth is an idol of tender heart and an easy presence.

The gross world pursuing wealth needs to learn a lot from Mother Lakshmi's simplicity and tenderness. In these 16 days, the devotee who worshipped Goddess Lakshmi faithfully attains wealth and prosperity. The longevity of wealth and prosperity depends on human service and good deeds. Mother Lakshmi is largely pleased with human service and humanitarian work.

Milk, sandalwood, and dairy products are used to worship Goddess Lakshmi, holding a garland of lotus seeds and chanting Goddess Lakshmi's following mantra is super beneficial.

The following are the Sanskrit texts and simple Nepali meaning of Mahalakshmi Mantra only available in Hamro Patro, Nepal's most downloaded mobile application.

करिष्यकहं महालक्ष्मि व्रतमें त्वत्परायणा ।
तदविघ्नेन में यातु समप्तिं स्वत्प्रसादतस् ।।

That is to say, O Goddess, I will be faithful to this Mahavrat here and will be faithful to it.

May the success of this fast be good for all, and May Mother Lakshmi live in the homes of every daily wages worker.
Asthami Shradhaa
With the commencement of the Sorha Saddha may all the godlike Pitri in the Pitri realm between heaven and earth obtain salvation, may all the Pitri cross the Baitarni River, and may the ancestral love be maintained.

May the blessings of the ancestors be maintained, May goodness and good wishes are maintained, and we are the remnants of the ancestors in today's form, aren't we? Tarpan, Diyo Puja, Vishwedeva Brahman, and other pujas can be performed before the appointed time. There is a belief that if the Pinda is not donated at this time, the Pitris will not get it. Sanatana Philosophy largely acknowledges the importance of Pitri in the existence of life and the universe.

In Vedic Sanatan Sanskrit, Pitrikarma i.e. shraddha is usually performed twice, regular shraddha is performed on the tithi of death and another shraddha is performed during the period of Sorha shraddhas. May peace and happiness prevail in every family with the commencement of this year's Sorha Shraddha

Stretching from Purnima to Amavasya of Bhadrapada, this Pitri Paksha has its peculiar importance. Nepal's most downloaded mobile application "Hamro Patro" redefines you and simplifies the cultural, scientific, and social importance of every event and on this convoy, let me elaborate this Asthami Shradhha for you.

Asthami is the eighth day of the lunar month. This is the day that is highly considered to perform Shradh of those who passed away on the Asthami tithi of any month.

During these 16 days of Tithis, Hindu Sanatana followers perform the Shradhaa karma of their ancestors on the respective Tithis of their demise, irrespective of the month or Sukla or Krishna Paksha. This day is important for performing Shradhha or Tarpan of the ancestors who died on this Tithi. Blessings of ancestors who visit their descendants during this period of Sorha Shradhaa is highly anticipated and acknowledged.
Meaningful wishes.
World Smile Day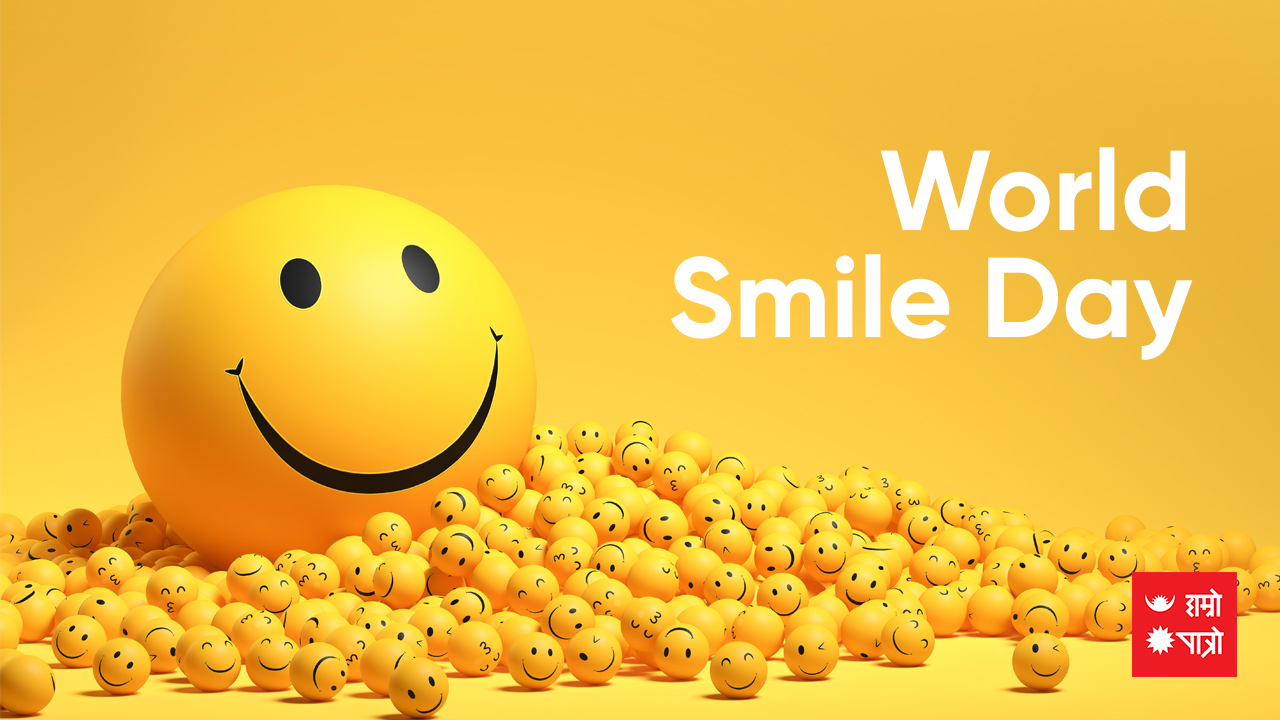 Do you have something in us that can easily attract others? This thing reflects our attitude and our personality. Don't think too much, this thing is our smile, our sweet smile free from any formality and compulsion. A smile is a feeling that comes out of our mind which makes the people around us happy and attracts everyone to us.

Since a smile is important for everyone, Smile Day is celebrated around the world on the first Friday of October every year to reflect on the importance of a smile.

Harvey Ball, a Worcester-based artist, brought a smile to his face during his performance in 1963, and people's attention was drawn to the importance of smiles. Since then, the day has been formally celebrated since 1999.

Since the death of Harvey Ball in 2001, the "World Harvey Ball Smile Foundation", founded in his memory, has been organizing Smile Day special events in many places today. The foundation's slogan is "Improve the world with a smile."

World Smile day 2023 theme: do an act of kindness, help one person smile'
In today's world of competition, many people work so hard to get ahead in life that they even forget to give a sweet smile. But one of the most important things in life is to smile and teach and encourage others to smile. Smiling people easily stay in everyone's mind.
Corona and terror also have an easy and simple remedy, which is smile and positive thinking, let's swear to fight the overall challenges of the world with the jewel of smile.

Happy World Smile Day to all. Always smile, be happy!

Suyog Dhakal

Liked by: