2080 Bhadra
20
Wednesday
Sep 06, 2023
भदौ कृष्ण सप्तमी
Shree Krishna Janmashtami/National Day Against Human Trafficking

MY NOTE
You can add your notes here
Shree Krishna Janmashtami/Manav Bechbikhan Biruddhako Rashtriya Diwas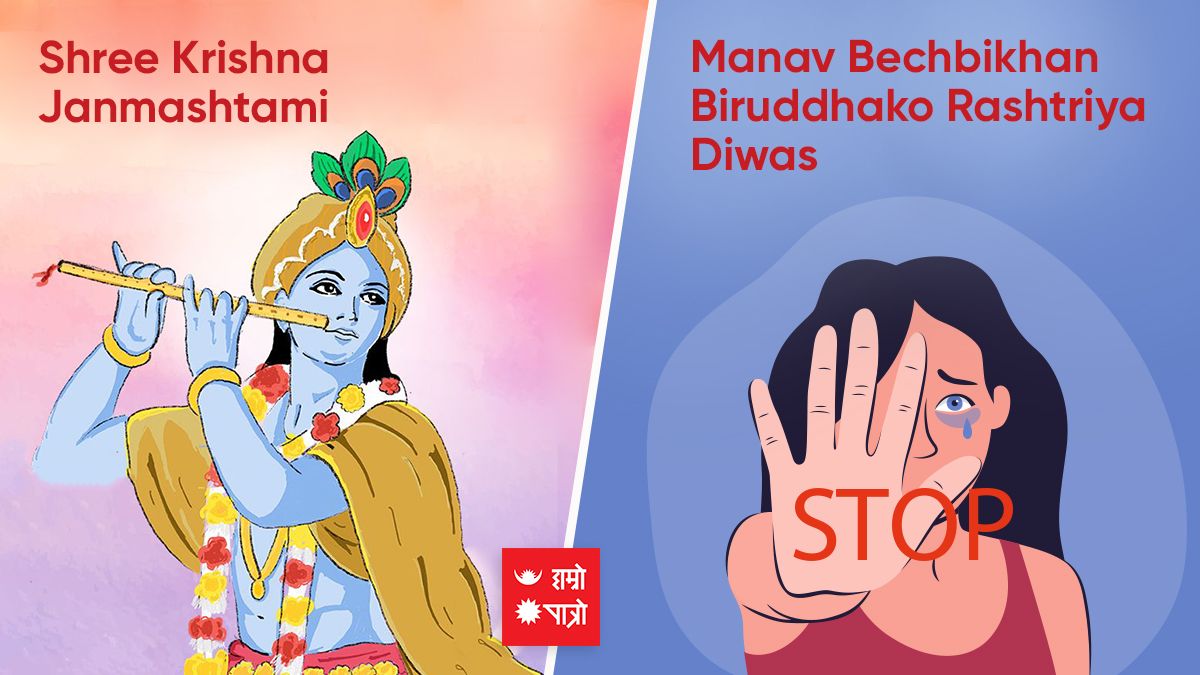 How Lord Krishna describes "God" in Geeta?

"I am the conscience in the heart of all creatures
I am their beginning, their being, their end
I am the mind of the senses,
I am the radiant sun among lights
I am the song in sacred lore,
I am the king of deities
I am the priest of great seers…"

This is how Lord Krishna narrates the godly features and described god in Geeta, he is the god himself, the Supreme Being, or even addressed as Purna Purushottam.

"गोकुल नाथाय नमः"
This mantra will increase the proximity between Krishna and you.

The meaning of Krishna Tatwo
Today is Krishna Janmashtami, my hundred thousand salutations to Lord Krishna, I won't dare to describe Krishna today but allow me to explain the importance of being Krishna, in today's context.

Krishna has been an enigma to some, but God to millions, people go ecstatic just by hearing his name, Krishna is probably the most used and addressed name in eastern philosophy. People perceive Krishna as their best friend, hero, leader, protector, guide, driver, and a major catalyst of their life, Krishna Tatwo resides strongly inside every heart and the warmth of our being, the warmth of our heart which manifests love and compassion comes from the Krishna Tatwa.

Krishna inspires in myriad ways, beyond religion and culture, Krishna Tatwa is the major influencer in literature and mysticism, sculpture, dance, music all aspect of Nepali folklore.

Krishna Life date
The period between 3200 to 3100 BC is considered as Krishna's physical presence on this planet, a lot of things happened during this time which still has a significant impact on society. The eighth day of Krishna Paksha or the dark fortnight of Shrawan Month is the birthday of Krishna. The night of this day is the most enigmatic, ecstatic, and attractive night of the day, Krishna Janmasthami is celebrated across the globe with a huge commemoration and excitement.

The birth of Krishna is a transcendental phenomenon that generates persistent and sustainable awe among Sanatana followers and overwhelms one and all with its supra mundane happenings. Today I won't talk more on the aspect and importance of Lord Krishna, these default facts are largely available over the internet.

Unfair life of Krishna
Today, I shall write about the unfair aspect of Krishna's life and his acceptance of those odds of his own life. Krishna was a creator yet the life he undertook in this world was a miserable and struggling nature of living. Let me present the conversation between Krishna and Karna here.

Life is not the same for anyone, let's listen today to Krishna's practical answers to Karna's question.

Karna asks Krishna, "O Krishna, is it my fault for being born as an illegitimate child?" My mother abandoned me at birth. Why is this Krishna? I could not learn from Guru Dronacharya because I was not a Kshatriya. Realizing this, Parashuram taught me to be a non-Kshatriya, but when he found out that I was Kunti's son, he cursed me forgetting everything I had learned. After all, why this injustice, Krishna?

My arrow hit a cow unintentionally and accidentally. The owner of that cow did not understand me and cursed me without understanding the meaning of my arrow. Even in Draupadi's Swambar, I became involved unintentionally. Mother Kunti also begged me to save her other sons but she didn't acknowledge my life as her son, my biological mother ignored the value of my life largely. I got all the respect and self-esteem I got only when I was on Duryodhana's side. Am I wrong now? Krishna, please answer me, will you?

Krishna gracefully answers,
O Karna, even before I was born, my death was guarding my life. I was born in a prison. With birth I had to abandon my birth parents, I grew up in a family and environment other than theirs.

Karna, you grew up listening to the sound of horses, swords, chariots, and war, but I grew up listening to the sounds of cow dung, straw, cowsheds, and cattle.

Do you know Karna Before I was born and before I was able to walk, there were many assassination plots and conspiracies to kill me. No army or military exercises or formal education in my childhood, even all the villagers accused me of being the root of their problem.

When you were called all over the village for your bravery, it was Karna. At that time, I did not even get an education from anywhere.

I got the chance to enroll in Guru Sandipani's Gurukul only at the age of 16. Karna, you married the girl you liked, but my marriage was not with the one I wanted, but with the one I saved with the demons. I had to move all my communities from the banks of the Yamuna to the shores of the sea for fear of Jarasand. Everyone called me a coward.

If Duryodhana wins this war, you will be given a lot of respect Karna, but I think if Dharmaraj wins, I will not get anything. Instead, history will condemn me for thousands of years for all the negative effects of war.

Remember one thing, Karna, this is a different kind of challenge for everyone in life. Your consciousness needs to choose the path of religion and truth. No one has the right to choose the wrong path because of the challenges and inequalities of life. Always remember that life is always in jeopardy but the destination of life is not determined by the shoes we wear but by the steps we take in life.

After saying this, Karna became silent.

I wrap up today by the verse from Srimad Bhagwat Geeta, quoted by Krishna himself.
"यदा यदा ही धर्मस्य, ग्लानिर्भवति भारत |
अभ्युत्थानम् धर्मस्य, तदात्मनं सृजाम्यहम् ||"

Whenever religion is lost in the world and iniquity prevails, Then I will come to this earth with a new incarnation for the protection of religion. " The world needs Krishna again, hail Lord Krishna.


National Day Against Human Trafficking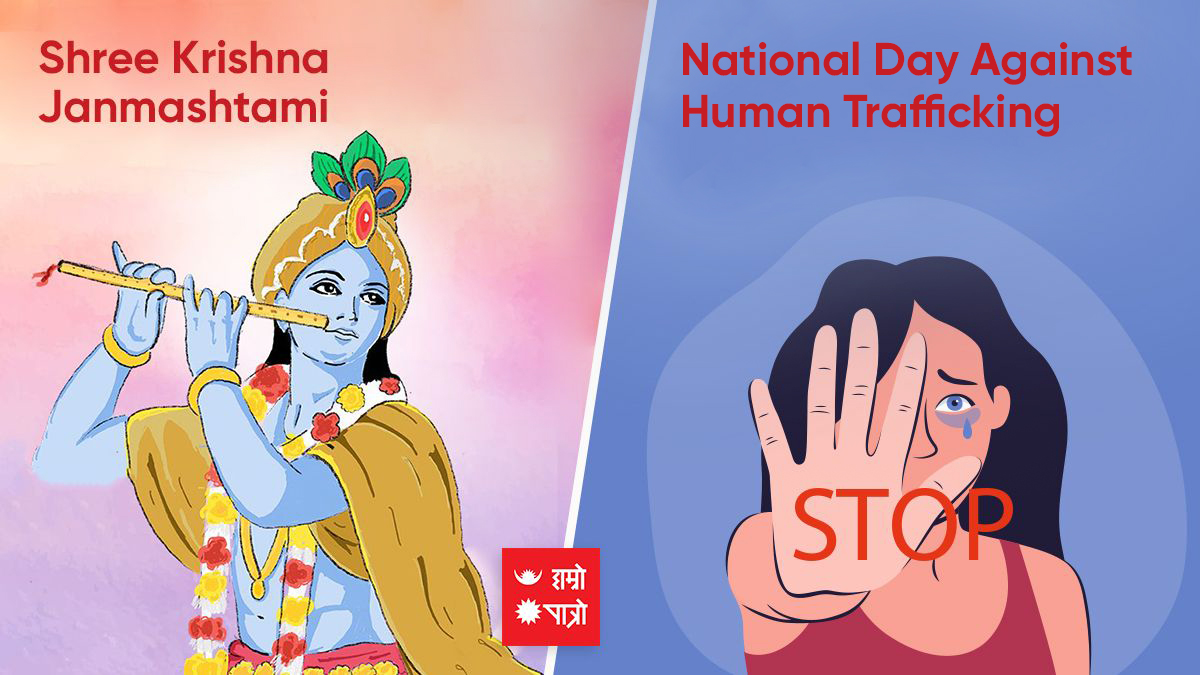 Human trafficking is still a serious problem in Nepal today. Nepalese girls, who were once sold in Indian homes, are now being sold by human traffickers all over the world in the name of foreign employment. Not only girls, but Nepali men are also being trafficked directly and indirectly for dangerous work and human organ trafficking. Cases of human trafficking in different forms and environments are increasing. However, Human Trafficking and Trafficking Act 2064 and Regulations 2064 have been enacted in Nepal. However, due to the lack of proper implementation of the Act and Regulations, the work against trafficking in women has not been fully successful. The government has established eight rehabilitation centers to prevent women from being trafficked and to rescue trafficked girls. But the operation of these centers and the management of the girls have not been able to be done properly. Keeping all these things in mind, the day has been celebrated in Nepal with the aim of advocating against human trafficking and trafficking and spreading public awareness and controlling human trafficking and trafficking. In commemoration of the day when the SAARC Convention against Child Trafficking 2002 was approved by the then Legislature Member of Parliament, the National Day against Human Trafficking has been started in Nepal since 2064 B.S on the 20th of Bhadra every year.

Meaningful wishes to all on this day.

Suyog Dhakal
Liked by: